Nitrile gloves, the current PPE frontier
Similar to the N95 extreme shortage, nitrile gloves now faces the same issue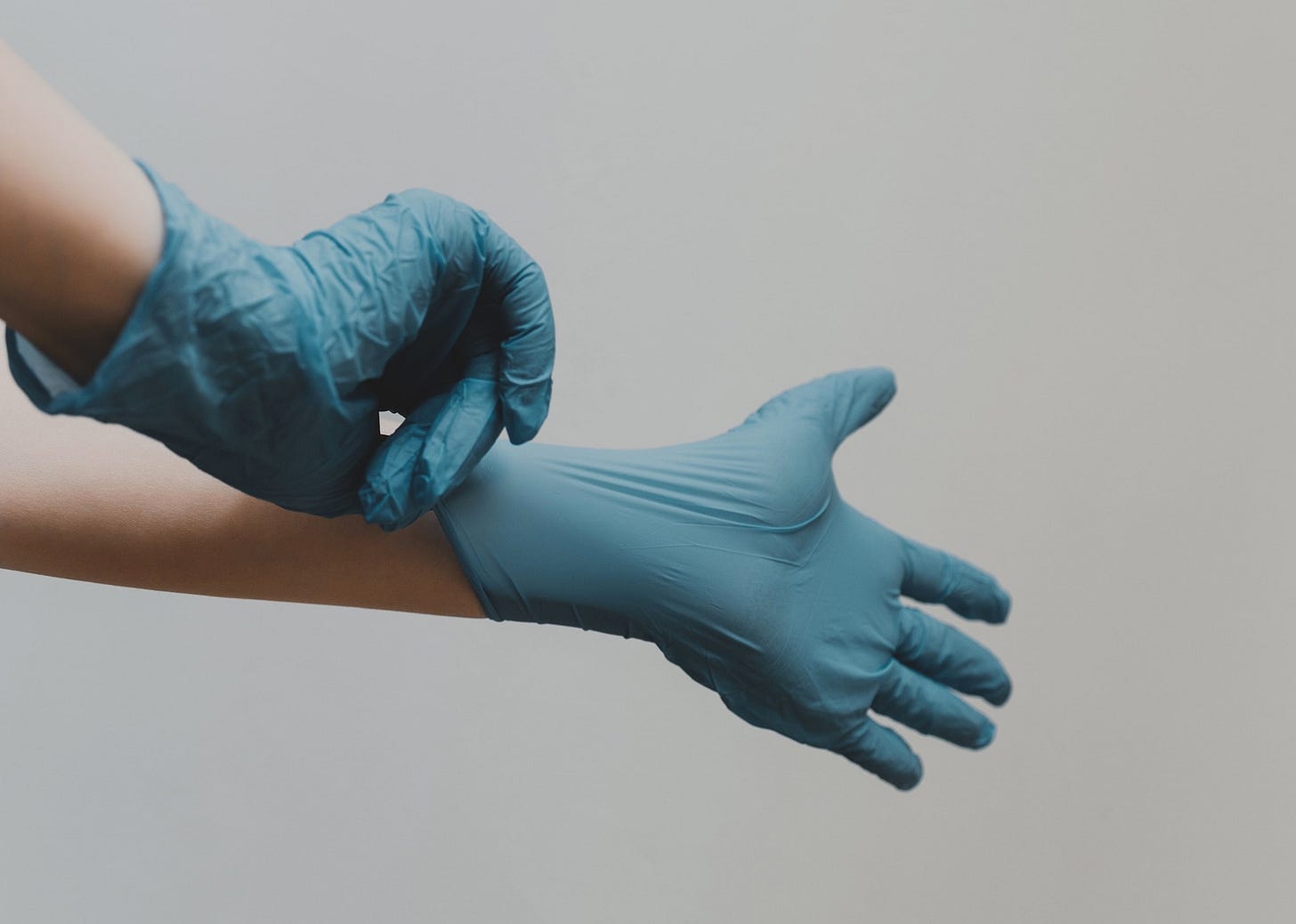 Nitrile gloves are now in the same crunch as masks were earlier in the year. Except worst. A glove factory takes longer to spin up than a mask one.
Time to start a mask factory to product 5m masks/mth. 2 weeks!

Expansion @ Hartalega to produce an extra 4m boxes of gloves/mth. 1 year.
How tight is the market?
The largest manufacturer of gloves in the world, Top Glove, producing 78.7 billion gloves a year, has publicly announced lead times for nitrile gloves are 420 days. Yes. 14 months after you order.
Unofficially, unless you're a pre-existing customer, I'm hearing it's closer to 18 months.
That said, they have officially allocated 10% of production to spot/auction sales. Which you can pick up earlier (1-3 months). Spot prices are 2x+ the production price.
What are the current prices? (Jul 10, 2020). From reliable suppliers I've talked to,
USD 7-10/box of 100 nitrile examination grade gloves for delivery within 1-2 mths

USD 5-7/box for delivery 'later' (end of queue)

USD 10-17/box for spot/immediate stock

These are bulk prices. eg. 100,000 - 1 million boxes at a time
Some other numbers to keep in mind
Total world production of gloves (nitrile and latex) is about 240 billion units. That's 2.4 billion boxes of 100 gloves / year or 200m boxes/mth.

No one keeps spare capacity on their production line if they can help it. Generally, pre-covid, 85-90% is spoken for. With covid, all lines are running & sold at 100% capacity.

Realistically, a maximum of 20m boxes/mth is available for new buyers.

Top Glove has a latex:nitrile mix target of 45:55 for 2020

Guesstimating an industry mix of 60% nitrile, total available nitrile gloves is about 12m boxes/month, which leads to the next topic
Scams
With the shortage, comes scams and the "agent" chain. The vast majority do not know the product and thus are easily eliminated.
The easiest marker, offering too many gloves.

For obvious reasons, if someone is offering a substantial fraction (or even more than) 12m boxes/mth of nitrile gloves , it's a waste of time.
Wait, I am looking for 100m gloves (1m boxes) in 1 month! How do you get more?
Is it possible? Sure. Takes extra effort. You can buy from the factory at auction (Top Glove), or if you've a good relationship with the factory, have them negotiate with an existing customer to accept a delay (and/or a large discount).
Or work with a broker to help find & buy out someone-elses allocation of gloves.
Types of gloves
Industrial : general grade. These are used in food service, by mechanics, etc.

Examination : higher grade. General medical (draw blood, exams, dental, etc)

Surgical : highest grade. Used for surgery. When you're being cut open. Sterile.
Mils vs mm
US side, gloves uses mils. Everywhere else, mm. 5mils is 0.127mm
Factory Capacity / Year *from company annual/quarterly reports
Top Glove: 78.7 billion (eg. 787 million boxes of gloves / year)

Hartalega: 38.1 billion

Sri Trang: 32.6 billion

Kossan : 29 billion

Supermax: 26 billion

HongRay: 14 billion

Intco: 5 billion

Blue Sail: 4.3 billion

Vrg Khai Hoan: 4 billion ( 40m boxes / year)
Some References
This is a living document & I'll do ongoing updates to the doc.
Why? I've been helping procure PPE ( humankindnow.org ) for medical workers and was recently asked to help with gloves.