To market, to market to buy a face mask! Buying masks in bulk during a crisis.
home again, home again....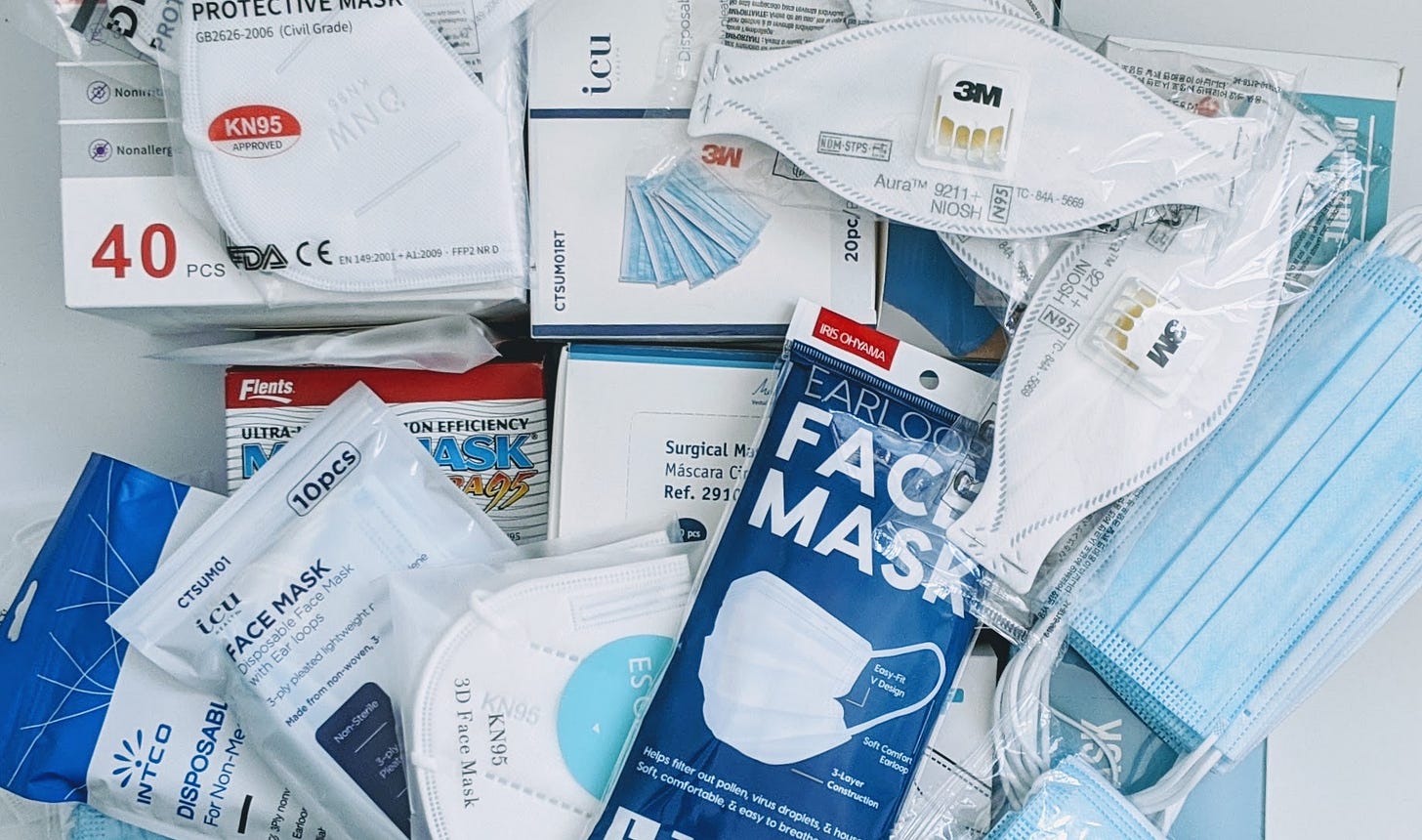 Admittedly some levity in a grave situation. Here are some details on what I've used to buy masks in bulk.
TLDR; Wear a mask. It is available. It is affordable.
Recently, I sourced & procured hundreds of thousands of masks in bulk. All donated to front-line medical workers in the US. Details @ humankindnow.org

There are plenty of fakes, scams, price 'hikes', quality issues and after you find a reliable source, for a while, logistics was a nightmare. It is much easier now.

Pricing is not back to 'normal' but it isn't completely outrageous. N95 = $3-5/ea, KN95 with EUA = $2-3/ea, proper surgical masks $0.30-0.40/ea. ( Price is after shipping to the US & import duties (DDP). As of 6/22. FOB is about 10-15% lower)

While N95's are still harder to get, KN95's are easier to procure but must be on the FDA EUA list for medical use (and also for trust that it actually works).

The GB19083's are good equivalents to surgical N95 (eg. 3M 1860).

In most cases, we sourced directly from factories. Incredibly tough during Mar-Apr. Prices & availability now more reasonable but as of late Jun, there is a notable pickup in demand and tightness in availability again.
Background
I volunteered at a non-profit org to source, vet & purchase PPE during the first few months of Covid19. Procured PPE were donated and sent through thousands of shipments across the US to individual medical professionals as well as to larger organizations (eg. VA, the Navajo Nation, Doctors without Borders, etc) all of which only possible with the support of generous donors as well as aligned efforts from Flexport & Amazon.
Do masks work? Yes. Of course.
Yes. The virus is smaller than the filtration limit BUT the virus sits on larger droplets (eg. when you cough / sneeze / breath). Those droplets are blocked. Proper masks also has a static electricity charge to attract the particles to the mask. Finally, the 0.3 micron filtration masks provide is designed to take advantage of Brownian motion to capture particles below the filtration size.
Crisis procurement strategy
Essentially, we multi-sourced, multi-channelled, multi-product/brand to ensure supply.
Traditional procurement would have been to get a sample, run a larger test order, then a main order and after that consider whether to have a supplier for the product as a primary source (or secondary, or backup). Which would have been about 2-3 months. And with this crisis, traditional channels were unable to provide any supply as their suppliers couldn't/wouldn't provide them with any goods.
This was a crisis. So, we skipped the sample, test orders were done with multiple providers, through different channels and with different selection criteria.
Did it work? Yes. Were there problems? Yes. But did we get what was needed? Yes.
What you do NOT want to do is to single source critical products.
So, we now have multiple sources for different masks types (surgical masks, kn95, surgical KN95, etc) from factories and with the same channels access to gloves, shields, goggles, gowns and other PPE needs.
Standards are critical
Standards adherence & mass production quality control even more so. But let's start with actual standards first.
Respirators
The best masks have both NIOSH & FDA approval. This is the manufacturer list: https://www.cdc.gov/niosh/npptl/topics/respirators/disp_part/respsource3surgicaln95.html
Next best, you have NIOSH masks. These have filtration but generally does not have fluid resistance. There are versions with those but are not as common (eg. P95). Note that NIOSH specifies both filtration (eg. 95%) and fit requirements. NIOSH also specifies site audits which helps ensure adherence to quality control.
Then…we have the KN95's. GB2626 is more common and mostly equivalent to the NIOSH N95's (in filtration. It has no fit requirement). GB19083 is the surgical equivalent. Eg. Similar to the 3M1860 which has filtration, fluid resistance and has fit testing requirements.
Out of Europe, there's FFP2 & FFP3. They are generally equivalent to N95 & N99 respectively.
Surgical Masks

Surgical masks with ASTM certifications are still somewhat hard to get. Look for FDA 510(k) certifications. However, we do see 0469's with lab reports providing PFE filtration at >95% that comes to the ASTM L1 standard. Some approach 98% so you can utilize those as well.
If you are going to use an N95 below the surgical mask, generally the 0469 is good as the filtration comes from the N95 (which do not have splash resistance) but splash resistance comes from the surgical mask.
The FDA  
            Unsurprisingly, new players don't actually understand FDA requirements and sellers misusing words is a signal they don't know what is needed.
510(k) PMN     - Ideal.

EUA                 - Necessary for KN95's to be used in medical settings.

Approval         - Generally means an 510(k) or loosely an EUA (authorized).

Registration    - Easy to get. Necessary but insufficient as an indicator. The vast majority of seller misrepresent 'registration' as an indication of approval. Not the same! Anyone can register.
To check if sellers actually have the necessary registration & approvals:
Pricing
These are typical prices & minimum quantities for factories. If you are looking for smaller quantities, generally expect 15-25% price difference for each magnitude change. Eg.  A mask that costs $1 from factory at 100k is $1.20 @ 10k; $1.50 at 1k; $1.80 @ 100.
Import tax is generally 7% for face masks.
N95                 $3-5     5 million

KN95 w. EUA  $2-3     100k

KN95 no EUA $1-2     100k

3ply masks      $0.2-0.6 100k

Gloves             1 container (about 2 million units) $70-80/1000 units
Generally, slightly lower or higher is fine. If it's too cheap, well you're probably getting sub-par quality goods.
Note: In the US, 3M has officially published their pricing as of May 15th. The 1860 (a surgical N95) is $1.27/ea or cheaper. However, only hospitals/government agencies can order at that rate.
Even so, public documents show that California paid BYD 3.30 USD/N95 and 0.55/surgical mask in a large bulk order of 300m N95 & 100m surgical.
Shipping
Generally 3 weeks by ship to get to Long Beach. Faster boats can do it in 2 weeks. About $2-3k for a 40' container that can hold 1.4m surgical masks or about 400k (K)N95's

Only takes a day if by air to fly over. However, it is much more expensive. Air freight cost comes to about 3-4c/surgical mask and about 25-30c/N95 mask
Note customs on both sides may take 2 days each. eg. 2 + 2. Afterwhich it is just normal shipment times whether you are trucking it directly or via USPS/UPS/Fedex
Verification
Once you actually receive the goods, did you actually get the correct ones? How do you know if the filter actually works as advertised?
Nelson

SGS

are two major testing companies that can provide the full suite of tests.
You can also purchase portable particle testing equipment for about $5k
These are lists of rejected masks & manufacturers
This is a list of respirators assessed by NIOSH - https://www.cdc.gov/niosh/npptl/respirators/testing/NonNIOSHresults.html
Users
Medical settings (hospitals/clinics/etc) desire surgical N95's, otherwise prefer N95s and will live with KN95's (on the EUA) if nothing else.

For personal use, cloth masks.. are nice, but fwiw, variation in quality is so large it is a case by case basis whether it is effective or not. If cloth masks are not washed properly/regularly, you need to worry about mold/smell. This is pronounced with the 3 ply cloth masks where you cannot access the middle layer.

If you can afford it, personal users should go with disposal surgical masks ($20-ish / box of 50). Get some.
There's plenty more to buying masks but hopefully this is enough for you to get started. Feel free to reach out if you need more help.